Free Shipping on All Orders Over $100, Worldwide!

Hand Forged Wood Carving Knives Since 1987
---
Bushcraft Survival Knives

With blades that are differentially hardened, bevels that are forged and full tang handles (with solid rivets that are peined over on both ends), these knives will take an amazing amount of abuse.

Handles

Handles are Jatoba, a very dense wood. The slabs are well glued onto the solid steel shanks, then secured with rivets. The rivets are not just glued in, they are swelled on both ends by the old way of peining. With that, the handles will never come off, even if the glue fails.
I encourage customers to save money by ordering just the blades. They are fully heat treated and sharpened. The shanks are drilled (two 3/16 inch holes) and two brass rivets are included.

Blades

Forged from round bars of O-1 (high carbon steel). Differentially hardened - just the edges are hard, the spines are left "soft" and tough, to withstand a lot of shock. (Please see the results of some destructive testing at the bottom of this page.)


Bevels

After being forged flat from round bars, many heats are taken to carefully forge in the bevels at 10 to 12 degrees. (That's the total angle, from one side of the blade to the other!) The only grinding and removal of metal is along the edge, forming a microbevel about 1/8th inch wide. This also makes future sharpening much easier because sharpening is only done along that small microbevel.
Most bushcrafters are accustomed to the "scandi" grind, with flat bevels ground in at 20 degrees. So I made a few blades that way (forging my normal round bars of high carbon steel flat, then grinding 20 degree bevels). Then I did some destructive testing to compare them. As you can see from the results of the destructive testing (bottom of this page), the forged bevel blades hold up considerable better than the scandi ground blade when being abused.

Here is more
information about my
bevel forging process.

Please scroll down to se the knives...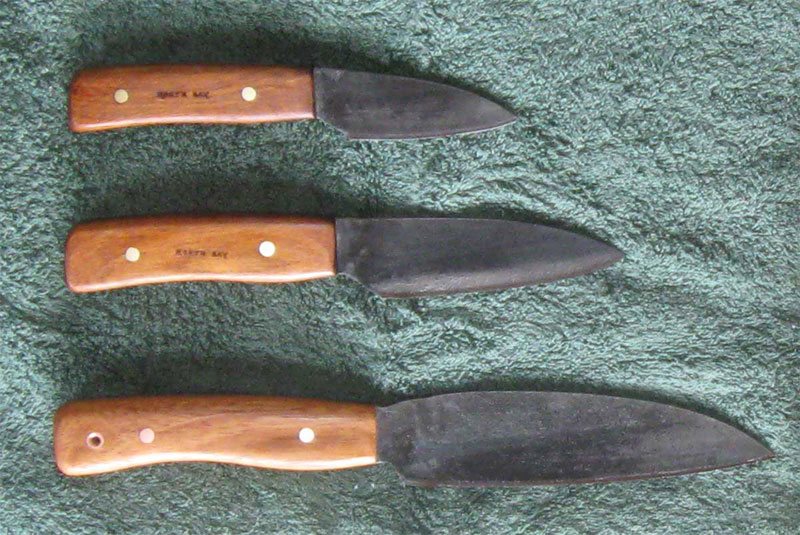 Small Bushcraft Knife $175.00
(temporarily out of stock)
Blade is 2 3/4" long, about 5/32" thick. Handle is 3 3/4" long.
This is the knife I carry daily. Does pretty much everything I normally need. A real sweet little knife that I hardly ever notice on my belt. I highly recommend this knife. Has the same differentially hardened blade, full tang and solid rivets as my other bushcraft knives.
---
Medium Bushcraft Knife $200.00
(temporarily out of stock)
Blade is 4" long, about 5/32" thick. Handle is 4" long.
The favored size for bushcrafters. Very good for baton work. Almost indestructable with differentially hardened blade, full tang and solid rivets that are fully peined over.
---
Large Bushcraft Knife $270.00 Blade is 6" long, about 1/4" thick. Handle is 4 3/4" long.
Quite a bit larger and heavier than the medium, and not something most people would want to carry around on their belt (especially in an airport!). Better to strap on the outside of a pack.
The extra weight, larger handle and fine bevel make this a very effective chopping tool, even without being struck on the back with a baton. The extra length makes it good for reaching into the cavities and dressing out larger game (which is what the customers who convinced me to make this said they wanted it for).
Because the bevels are quite fine, this is also a very good all around knife for the camp kitchen.

---
Sheaths are sold separately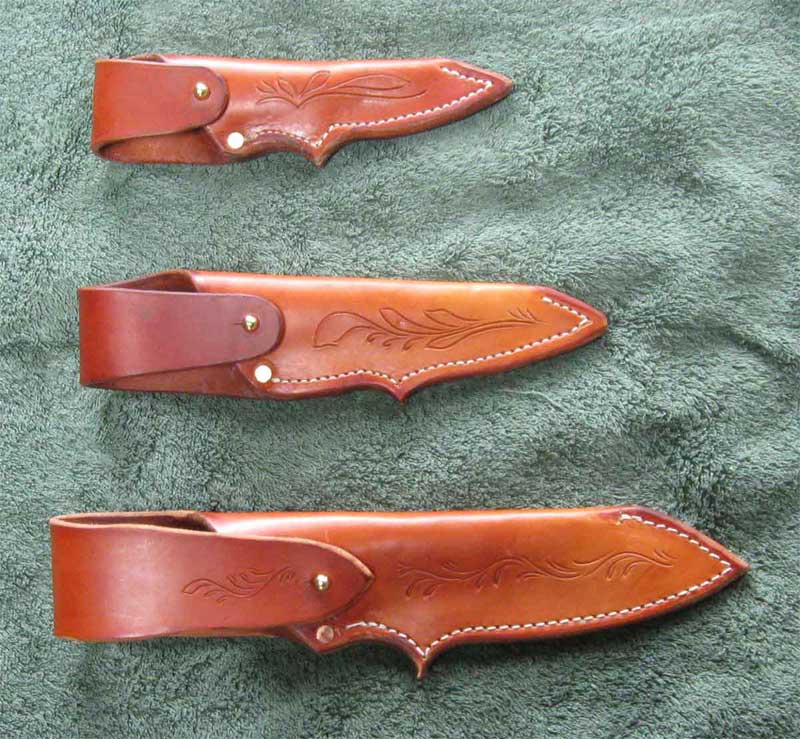 The result of many months and probably over a hundred emails back and forth, working out all the details, with my terrific leather worker in Idaho, Julia McCormack (of McCormack Hill Leather).
Although I was skeptical about it at first, the button for closing the flap is wonderful! Belt loop on the back side is held on with 4 rivets. Leather spacer along edge to give space for the blade without cutting the stitching (which is extra thick). Julia does a different design on the front of each sheath. I am so glad to be able to offer these as homes for my unique knives. Thanks, Julia!
Small Sheath 8" long $50.00
---
Medium Sheath 9 1/2" long $55.00
---
Large Sheath 13" long $65.00
---
Leatherworking tutorials by Julia
---
Blades are fully heat treated and sharpened. Handle is drilled for two rivets (included).
As with my adzes and scorps, I am very glad to offer this option for you to save some money and enjoy using a tool you helped to make.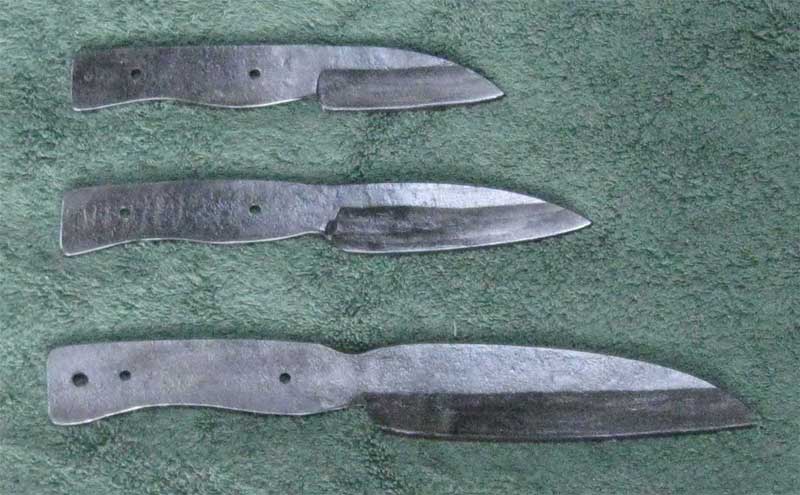 Small Blade $100.00
(temporarily out of stock)

---
Medium Blade $125.00
(temporarily out of stock)

---
Large Blade $175.00
---
Scandis (soon to be discontinued)

Also forged from round bars of high carbon steel, but the bevels are ground in (20 degree straight grind). They don't hold up as well as my forged bevels and they are considerably harder to resharpen because so much metal has to be removed. So I won't be making any more. These will be available until current batch is sold out.
(click pictures to enlarge)
Small Scandi Ground Knife $155 (discontinued)
Blade is 2 3/4 inches long.
Bevels are 20 degree straight ground.
Medium Scandi Ground Knife $175
Blade is 4 inches long.
Bevels are 20 degree straight ground.
The blades below have been drilled with two 3/16 inch holes for brass rivets (included)
Small Scandi Ground Blade $80 (discontinued)
Blade is 2 3/4 inches long.
Bevels are 20 degree straight ground.
Medium Scandi Ground Blade $100
Blade is 4 inches long.
Bevels are 20 degree straight ground.
---
Below are pictures showing the progression of forging steps for the 4 inch blade with double forged bevels:
(They are all pointing the same way, with the blade to the right.)
Please go here for more information about my double forging process.
(click pictures to enlarge)
Five inches of 5/8 inch diameter O1 high carbon steel
The handle is drawn out and forged flat first. It will be forged a bit more, but the final shaping is done later by grinding.
The blade is started.
The blade is forged with a little lengthwise taper, so that it is a bit thinner at the tip. But it is still quite flat across it's width. That is about where I stop forging for the blades that will get the "scandi grind" (straight 20 degree bevels ground in).
The last few heats are forging in the bevels with my new "double forging" process. The thing is to get the bevels to the right degree, symetrical and even, and down to a wire edge along the whole length. Craziness!
The tip of the blade is left full during all of the forging, so that it does not overheat in the forge. The profile is later ground, only from the back.
Finished (except for the rivits and final sharpening) prototypes of the 4 inch and the 2 1/2 inch double forged knives.
---
Below are the results of some destructive testing:
double forged with microbevels above
scandi grind below

We started with a variety of local softer woods, cutting deep notches using hard blows with a dry madrona baton. The easy notching was fun, but... onto dry plum and madrona. The edges of both the scandi ground and double forged with microbevel were equally unchanged after aggressively pounding into those hardwoods - still razor sharp. I was duly impressed and very pleased. One of the other shop guys came out with some mystery wood from South America that would not float. A few very hard wacks into that and the scandi ground blade showed definite damage at the edge. No chips but we could see and feel the damaged edge, which would take considerable sharpening. Next, the double forged bevels with microbevels. It also did not hold up, though showed much less damage. Could not easily see it, but we could feel a burr at the edge. This clearly demonstrates the benefit of fully forged bevels.
---
---
My carving knives are intended for serious wood carvers. They are razor sharp and can be very dangerous if used improperly. Please be careful and don't allow young people to use them unsupervised.
Your satisfaction is fully guaranteed. If you have a problem of any kind with one of my knives, please let me know. I will make it right with you.











Link Partners
Copyright © 2005 North Bay Forge by Jim Wester
with thanks to Tina Rose
feedback welcome jimwester@northbayforge.com